Well folks, finally the season we have all been waiting for is just around the corner… summer! You can smell it in the air, see the grass starting to show, while flowers are starting to poke their heads through the ground. Oh, it is just a matter of time before we are into full-blown Okanagan summer!
With the warm weather often comes a flurry of activity, but also distractions. Whether you work in an office or are self-employed and scoot around the city for a living, staying concentrated on good business practices and the tasks at hand can be challenging when it's sunny and hot outside and you know that there are dozens of people sitting on patios and on the beach relaxing while you are working.
How do you keep up the good habits to thrive and flourish while still having the freedom to enjoy the season?
I recently read a book called The One Thing by Gary Keller and the premise of this book is that every day there is one thing that you should do before all other things that would either make everything else easier or would eliminate the need to do those other things altogether.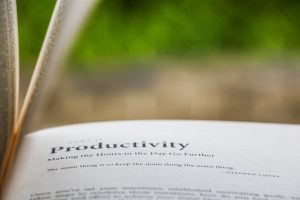 In order to keep your business effective through the tantalizing and tempting warmer months, I encourage you to analyze your yearly, weekly and daily goals. Take your success list and break it down to figure out what is the one major thing that you need to accomplish that day, that week or that year to push you further towards your overall success goal? Once you have established what that one thing is, do it first and foremost when your energy is high and your mind is fresh at the beginning of the day. Do not delay, do not hesitate and do not waste your time with many menial tasks that will ultimately distract you from the one thing that you will regret not doing when you go to bed that night.
It can be difficult to stay concentrated and focused when there are so many fun things you could be doing in the warm weather, but if you do that one major and important task at the start of each day, at the end of the season (and that quarter!) you will be leaps and bounds closer to your yearly goals than if you allow yourself to be distracted by the minor things. PLUS you will get to enjoy the second half of each spring/summer day knowing that you have already accomplished your ONE major task in the morning!
If real estate is something that is on your list of goals to be involved in this year, you don't have to tackle that ONE THING alone, hire a professional who can help navigate that journey with and for you. I am here to help!